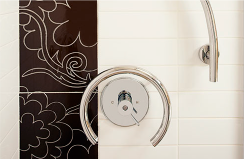 YOUR PEACE OF MIND. OUR BEAUTIFULLY CRAFTED DESIGNS.
Seachrome promises our seasoned approach to innovation, craftsmanship and service in all of our work. From initial concept and prototype design through tooling and production, we treat each product as if intended for our own family's use. Seachrome embraces an eco-friendly philosophy, using #304 stainless steel material, 100% recyclable in finished form.
Our in-depth knowledge of manufacturing and craftsmanship assures that Seachrome's Lifestyle & Wellness Series meets the highest standards in its class. Comfort, safety and beauty combine in each of these bold, innovative designs. The Lifestyle & Wellness Series integrates our decades of experience in providing stable and secure structural options in a bathroom environment — proven to create confidence, self-reliance — and peace of mind — for the elderly and physically impaired. Underlying the fluid lines and elegant simplicity is our commitment to functional support, durability and intelligent style — all in service to health and quality of life.