Your peace of mind, our beautiful design.
Seachrome promises our seasoned approach to innovation, craftsmanship and service in all of our work. From initial concept and prototype design through tooling and production, we treat each product as if intended for our own family's use. Seachrome embraces an eco-friendly philosophy, using #304 stainless steel material, 100% recyclable in finished form.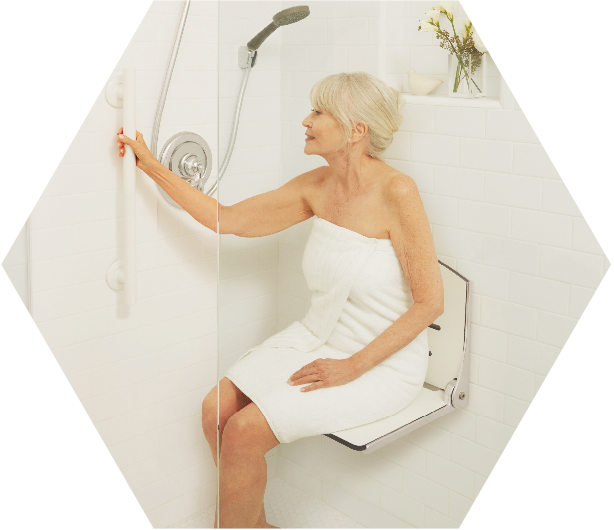 Browse our Lifestyle & Wellness® Line
Our in-depth knowledge of manufacturing and craftsmanship assures that Seachrome's Lifestyle & Wellness Series meets the highest standards in its class. Comfort, safety and beauty combine in each of these bold, innovative designs. The Lifestyle & Wellness Series integrates our decades of experience in providing stable and secure structural options in a bathroom environment — proven to create confidence, self-reliance — and peace of mind — for the elderly and physically impaired. Underlying the fluid lines and elegant simplicity is our commitment to functional support, durability and intelligent style — all in service to health and quality of life.

Elegant Design.
When it comes to safety, comfort, peace of mind and style for applications where ADA compliance is not required, you don't have to compromise with Seachrome's Lifestyle & Wellness® Series. Our popular line of accessibility bath accessories offers a wide range of design choices that are equally at home in upscale traditional or contemporary residences.

Versatile Applications.
Lifestyle & Wellness® grab bars and shower seats are ideal for use in commercial and residential applications that include Aging in Place bath remodels. Many offer the convenience of multi-purpose functionality, combined with a range of installation options to accommodate the needs of various spatial configurations.

Made In USA Quality.
All Seachrome products are proudly made in the USA and built in our Southern California facility. We start with durable #304 solid stainless steel and incorporate a variety of finish options to combine the best of form and function. We choose phenolic white, teak, HDPE, padded naugahyde, and new solid-surface materials of the highest quality for our seat tops, to provide comfort, style and strength.