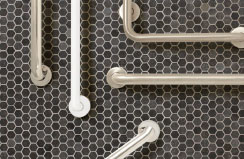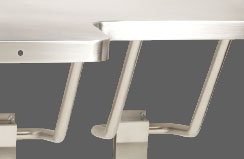 SUPPORTING YOU WITH STYLE, COMFORT AND STRENGTH.
At Seachrome, we've devoted over fifty years to producing comfortable, durable, safe and stylish bath products of the highest quality and value. Our all-American approach to innovation in design and excellence in service and production means our work exceeds the standards set for bath products that serve special health needs. Seachrome understands the long-term impact of an environmentally-conscious approach to manufacturing, so we use recycled materials whenever possible and ensure our finished products are fully recyclable and LEED compliant.
We design our tub/shower seats and grab bars with an eclectic range of sturdy, long-lasting and beautiful materials. From our classic #304 stainless steel to the finest quality phenolic white, teak, HDPE, padded naugahyde, and new solid-surface materials in our seat tops, Seachrome's Signature line offers comfort, style and strength. Our expertise in the guidelines set by the Americans with Disabilities Act is incorporated into the entire Signature product line assuring safety and security, with our made-in-the-USA pride in every product. All Seachrome grab bars and accessibility seats are WingIts compatible.