CAL SERIES SPECIFICATIONS:
Approved by Buy American Act & American Recovery and Reinvestment Act
California code compliant
SHOWN: 15820-18-PS
Available in Polished Stainless finish, this towel shelf with bar incorporates quality craftsmanship from durable #304 stainless steel.
Model # 15820-18: 18"W x 11"H x 9-3/4"D
Made from #304 stainless steel
Mounting flanges: 2-1/4" x 11" x 10 gauge
Available finish: Polished Stainless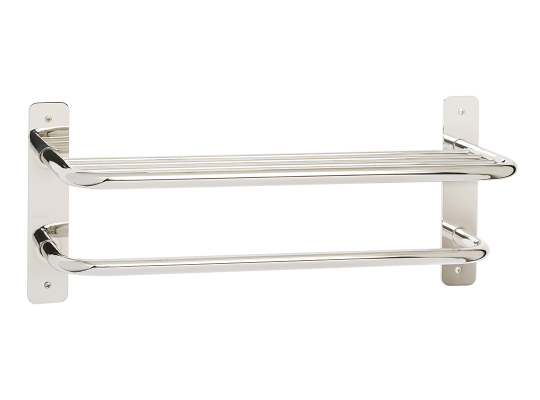 SHOWN: SCM-R5519
Attractive features like polished stainless square bars and support brackets made from die-cast zinc alloy with Chrome Plated finish make this versatile, 24" towel shelf with bar ideal for everyday use.
SHOWN: 15840-30-SS
A long-lasting, 30" towel shelf made from #304 stainless steel.
Model # 15840-30-SS: 30"W x 8"H x 12"D with 29" mounting centers
Made from #304 stainless steel
Mounting flanges: 1-1/2" x 8" x 10 gauge
Available finish: Satin Stainless