CAL SERIES SPECIFICATIONS:
Approved by Buy American Act & American Recovery and Reinvestment Act
California code compliant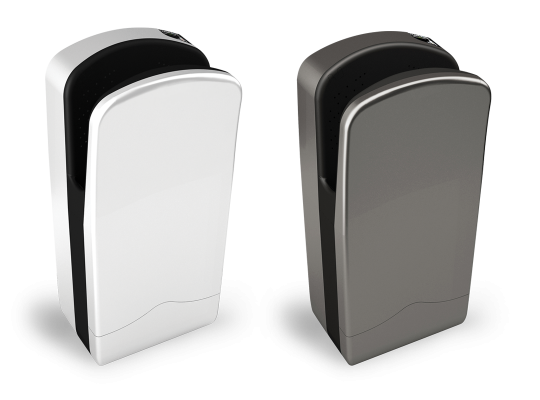 SHOWN: SCV-V7-300-WT and SCV-V7-300-AL
This next-generation wall-hung hand dryer offers superior speed and hygiene, eco-friendly performance and a streamlined design for commercial washrooms. It features a patented 300-nozzle micro air current system that dries hands and purifies air in 10-15 seconds or less, resulting in a splash free, anti-microbial experience. Available in Snow White and Silver Aluminum, its sleek, vandal-proof design can stand up to repeated use in a commercial setting, while providing a pleasing aesthetic accent in the most high-end restrooms.
Available in two colors:

Model #SCV-V7-300-WT: Snow White
Model #SCV-V7-300-AL: Silver Aluminum

Made from:

ABS and polycarbonate, with ABS tamper-proof bolts and covers
60% recyclable materials
Washable dust and fiber filter
Touch-free infrared sensor

Features:

Hand area and water reservoir embedded with Microban® anti-microbial system
ZeroSmell technology eliminates unwanted odors
Noise level: 70dB (lowest decibels available)
High speed 10-15 second drying time

Electrical specs:

Volts: Model 120V: 110/120V
Amps: Model 120V: 20A
UL and CuL Certified
Electrical installation must be completed by qualified professionals in accordance with applicable codes and standards.

Available size: 11-7/8" W x 24-1/4" H x 7-5/8" D