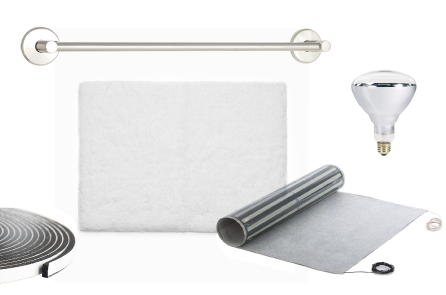 There are many things we love about winter: the crisp air, the first snowfall of the season, time spent with loved ones, crackling fireplaces, winter sports, and much more. However, a frigid cold bathroom is not one of them. Turn your bathroom into a cozy retreat and keep yourself warm this winter with these tips and tricks.
Rugs
Nothing feels worse than bare feet on cold tile. To fix this problem, add a few thick rugs throughout the bathroom. They'll keep your feet warm and lend a comforting feel to the room.
Weatherstrip 
If you feel a draft, the windows may be responsible. Add a weatherstrip around the windows to keep warm air in and cold air out.
Heat Lamps
Swap your regular light bulbs for heat light bulbs. This is a much more efficient way to warm up your bathroom without turning up the heater. 
Heated Floors
If you live in a cold climate and you're looking for a more permanent solution to bathroom winter woes consider installing heated flooring. It's more expensive and labor-intensive than a simple cosmetic fix, but the benefits are well worth it. 
Keep Your Towel Close
Avoid the frosty trek from the shower to your towel rack by hanging your towel over the shower door or installing a Seachrome Towel Bar within arm's reach.