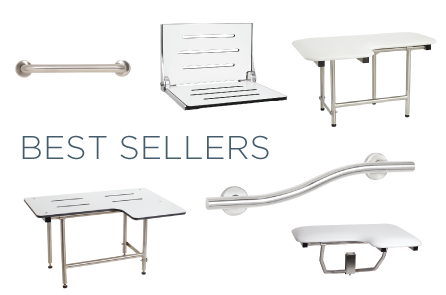 All of Seachrome's products are of the highest quality and value, but that doesn't mean you can't have your favorites. When designing an accessible home you can always rely on our durable, safe and stylish accessories to get the job done. 
Choosing which product is right for you can be daunting. We've compiled a list of some of our top-selling products via Amazon so you can see what our customers are loving. 
The tried and true Straight Grab Bar is an American-made product crafted from durable #304 stainless steel to satisfy all dimensional and load requirements specified for ADA applications.
This aesthetically pleasing seat was designed to complement a variety of bathroom décor styles. It features a convenient removable backrest, water-resistant construction and a sleek, space-saving design.
Accessibility Seat – L-Shaped Transfer with Swing-down Legs, Reversible
With a reversible design in Left or Right-Hand configurations, this sturdy, water-resistant seat provides secure support. This solid, phenolic seat features adjustable, swing-down legs and Lift-Assist Technology, which makes it easier to lift than any other seat on the market. It meets ADA code and will support up to 1,000 lbs when properly installed.
The Wave Grab Bar features a contemporary, ergonomic design that provides optimal comfort to those who need it most. Constructed from durable #304 stainless steel, this grab bar meets and exceeds the minimum 250-pound requirement when properly installed.
Shower Seat – L-Shaped Transfer Style, Right- or Left-Handed Configuration
Enjoy secure support while bathing with our wall-mounted L-shaped transfer shower seat. Created to provide optimal comfort for those who need it most, this seat is made from water-resistant padded white Naugahyde and features our patented, exclusive Lift-Assist Technology, ensuring that it is compliant with the ADA 5-pound code.
Shop all of these products and the rest of Seachrome now on Amazon and receive free shipping.