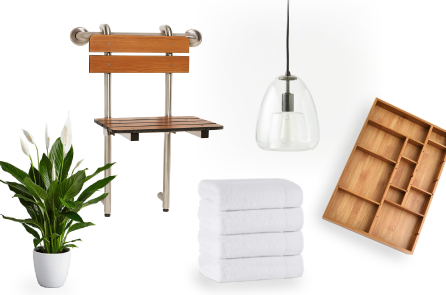 Get the most out of the remaining days of summer by making simple home decor updates that make a big impact in both style and serenity. These improvements take less time than a full-scale remodel, helping you soak up the late summer season before it's over!
Read on for our favorite ways to refresh your bathroom for style, serenity, and accessibility with minimal effort and maximum results. Try one or all of these simple ideas to quickly turn your bathroom into the ultimate haven.
Add Greenery
Incorporate houseplants and flowers into your bathroom to create a healthy, lively environment.
Update Your Lighting
Add natural, modern lighting to brighten up your space. West Elm Duo Walled Pendant, Single, Black Oxide/Clear ($99)
Declutter
Maintain a relaxing and tranquil atmosphere by decluttering and organizing your bathroom space. Remove items you don't use on a daily basis and store them in drawer organizers. Birch Lane Cantara Adjustable Drawer Organizer ($28)
Time for New Towels
Swap out your old towels for crisp white, luxurious towels to help create a bright, airy feeling in the space. Enchant Home Signature 8-Pc. Wash Towels Turkish Cotton Towel Set ($142)
Add Safe, Spa-like Accessories
Have older family members visiting for an extended time period or considering a gradual aging in place upgrade? Install a shower seat like the Seachrome Profile Bench Seat for peace of mind and a spa-like appeal. Perfect for use in walk-in showers.