With summer quickly approaching there's no better time to update your home and put safety at the top of the list. Whether you're looking for everyday convenience, safety for future guests, or planning to age in place, Seachrome is proud to offer bath accessories that combine peace of mind, style, and universal function. Here are some of our favorite pieces to fit your evolving needs.
Did you know that more than 1/3 of washroom injuries happen while bathing or showering? Bath and shower seats are the number one way to stay safe in the bathroom. Our versatile bath and shower seats from our Lifestyle & Wellness series provide space-saving shower security and are available in a range of appealing finishes that feature cutout patterns for drainage. Featured here is our Silhouette High Back Seat that folds down to within 3″ of the wall and is made from durable, water-resistant phenolic material.
Our Lifestyle and Wellness series offers the highest standards in its class. Comfort, safety, and beauty are key to each of these bold, innovative designs. Featured here is our Crescent Bar, designed with a long, gentle curve to combine optimal support with lasting style in the bathroom.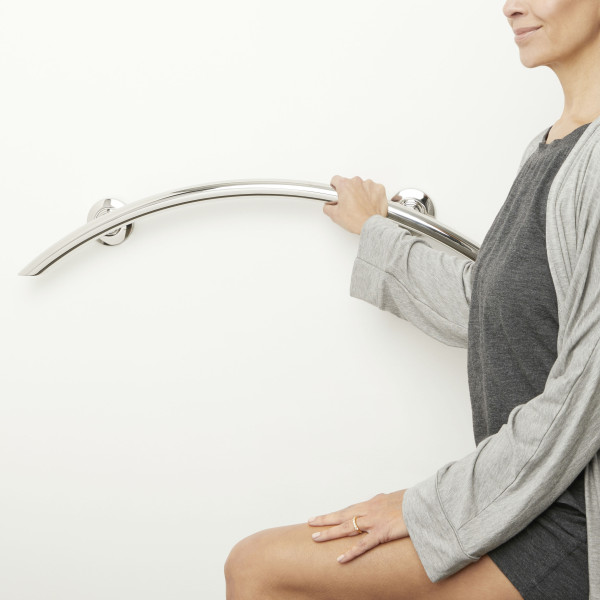 This Lateral Teak Natural Bath Mat from CB2 can seamlessly fit into any existing bathroom and provide the non-slip safety you need with tile flooring. Pro tip: error on the side of caution and specify smaller tile with extra grit to increase traction.
Use a long-handled natural bath brush like this Cactus Long Handle Body Brush from The Body Shop to do the hard work for you. Target hard to reach areas and stimulate the microcirculation necessary for healthy, aging skin without straining yourself or risking a fall in the process.
Let these AUVON Plug-in LED Motion Sensor Night Lights with adjustable brightness guide your way. With a built-in automatic motion sensor, you don't need to worry about remembering to turn them off. Use them as a visual aid for stairs and other potential obstacles or hazards both in the bathroom and to light a path on the way.