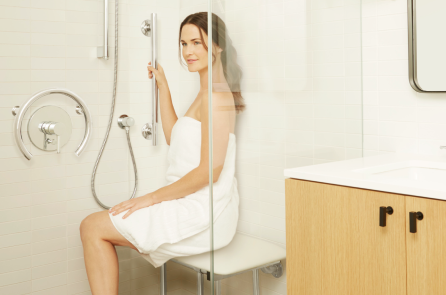 Accessibility is important to us at Seachrome. We design our premium bath accessories  for  comfort, style and strength  and to meet the requirements of the Americans with Disabilities Act. With our line of bathroom accessories, we strive for design that's stylish as well as functional. In that spirit, we've compiled this roundup of homes that are both accessible and design-forward. Read on to discover some truly inspiring homes  that pair stylish decor with accessible innovation.
1. Universal design doesn't have to be boring! Ed Slattery built a house for his son that features a wheelchair accessible meditation tower with views of Baltimore's Loch Raven Reservoir.
2.  Anne Kellett of A Kinder Space is a master at renovating bathrooms to fit the needs of her senior clients. From modern remodels to complete bathroom transformations, Anne utilizes Seachrome products to create beautiful, stylish spaces that take care of her clients as their needs change. See more here.
3. Seachrome blog contributor LeAnne Lavender's 2,600-square-foot renovated 1952 ranch-style home is not only fully wheelchair accessible but also a mid-century modern masterpiece. See before and after images here.
4. From a cramped bungalow to an accessible, modern, and affordable prefab, this Los Angeles couple nearly doubled the size of their previous home by updating it for universal design.