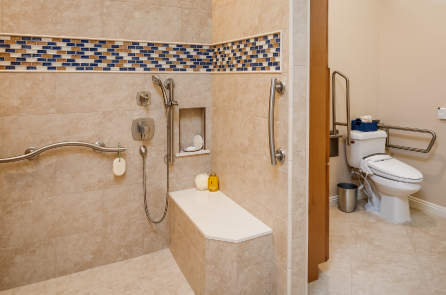 This month, we sat down with Certified Aging in Place Specialist (CAPS) and Home Modification Professional Anne Kellett of A Kinder Space to talk universal design, trends, and more. Read on to learn about what drives her to create beautiful, stylish spaces that take care of her clients as their needs change. We'll also showcase her most recent bathroom renovations using Seachrome products.
Thank you for taking the time to speak with us today! Could you tell us a little about your company A Kinder Space and its overall mission?
The mission of my design firm and practice is to create safe, easy-to-use and beautiful spaces that strive to address the present and future needs of my clients. My design specialty is accessible/ aging in place and universal design. What that means is that the spaces I create for my clients, first and foremost, need to take into consideration the physical challenges that they are experiencing now with their current space AND look ahead to what could change in the future.
I want to create an environment in which they can live and work more positively and independently now and in the future. The features that I include make it easier for their house to remain their home for as long as they wish to live there. Another key element of my design philosophy is that these features must also be aesthetically pleasing. They must complement the home's style and thereby increase the value of their home.
How did you get started in universal design and why did you decide to specialize in this field?
I have been an interior designer for over 40 years and have lived and worked in various regions of the country. When I first learned about universal design in the 1980s, I was immediately drawn to its principles. It was developed by architect Ron Mace at North Carolina State to make more mainstream and appealing the somewhat ugly design solutions that arose from the ADA guidelines then in place.
When my husband and I moved to California 15 years ago I knew we had to find a home where we could easily age in place (being 57 and 71 at the time). Housing was and still is very expensive here and extensive modifications were out of the question for us financially. I noticed in our search that so much of the housing here was built in the '60s, '70s and '80s, before any concept of accessible/aging in place/ universal design was even thought about. Californians do not often move from their original house purchase because of a property tax advantage to staying in place, so it clicked in my mind that if I could learn more about the kinds of features that one could incorporate in remodeling and then promote that ability, I could make a difference for my clients.
I took coursework sponsored by the National Home Building Association and became a Certified Aging in Place Specialist (CAPS). I then took additional coursework through USC Davis School of Gerontology and received my Executive Certificate in Home Modification Professional (ECHMP). Armed with this knowledge and my passion for good design for all, I launched A Kinder Space. Since then I have done numerous rewarding projects, won some awards and have become a local spokesperson for this issue. I often speak at events with presentations which address the challenges of aging but show beautiful solutions for specific spaces, like kitchens and baths. I am a tireless advocate for this area of design (which I believe should be the way we design for everyone!)
Can you speak to the importance of universal design in the bathroom for both homeowners and architects?
Before I address bathrooms specifically, because they are the "most dangerous room in the house," I want to address some broader issues that I see driving poor house design.  First is that most homes are designed for 30-year-old, able-bodied males, who at the moment are about 10% of the population. Second, is the fact that 1 in 5 people (in the entire population) need some kind of help – seeing, hearing, walking, using stairs, lifting, carrying objects and just getting around. This is a full 20% of the population and when you look at the Boomer generation, this percentage goes even higher. Just look around at your own extended family – aren't there old, young, tall, short, wide, skinny, able and not so able?  All homes should be not only be easy to live in but also be able to be visited by anyone. When you design for the most challenged, then it is easier for everyone! THIS should be, in my opinion, the focus of ALL residential design, from entries to bathrooms. Zero step entries, wide enough doorways and an accessible bath and bedroom on the first floor are needed.
With respect to bathrooms specifically, it is important to assess the present and future needs with regards to physical challenges of the homeowner for the master bathroom. For any guest bathrooms, it is important to ascertain the physical challenges of any potential visitors to the space. With these needs in mind, then I look for solutions that meet those needs.
What elements of design do you consider when designing or renovating a bathroom so that your clients can age gracefully in their own space?
I look at numerous things. Is the master bedroom on the first floor or on the second floor? If it is a two story house, is there a bedroom or space that could become a bedroom, if needed, on the first floor and is there a bathroom that could be modified as well? What is the width of the entry into the bathroom? Is it the normal 26" wide, which doesn't accommodate anyone with crutches, a walker or a wheelchair? Is there a tiny potty room which is inaccessible? Is there a bathtub that is seldom used and dangerous to get in and out of? What is the size of the showering space? Can I make it a roll-in shower, given the construction of the house? Might I need to make one of the sinks able to be used from a seated position? Can I make the necessary storage within easy reach to the most challenged user?
I assess all these elements with particular attention to the clients' current and possible future needs. Then I design a remodeled space which addresses all of these issues.  Some clients readily acknowledge the need for this. Some are in denial. In that case, I need to tread gently but address the reality of their situation. Most denial results from a fear of having to have someone take care of them. When I point out that these features will make it easier for them to keep their independence longer, they often find it acceptable. And when I show them how beautiful it will look, they get it!
What are some current trends you've observed within the universal design world and within aging in place design?
I am beginning to see manufacturers including in their product lines fixtures that are not only functional but beautiful as well. I can remember several years ago at KBIS (the kitchen and bath showcase convention) when a particular manufacturer introduced a new line of grab bars in four different styles and numerous finishes to match their existing faucet and accessory collections. I was ecstatic because now I could incorporate these elements in a more seamless way. Each year I see more and more manufacturers who get it. If it's attractive and seamless to the entire space then it will be chosen. This applies to more than grab bars – faucets, lighting, fixtures all have more universal design choice options. Some manufacturers even advertise nationally about universal design and how their products meet this need.
How did you come to know Seachrome as a brand and what initially drew you to their products? Do you have a favorite item to specify?
As I recall, I think I found Seachrome on Houzz, a website for interior design and architectural ideas. The styles were unlike I had ever seen and I contacted them immediately to see how I could begin using them in my projects. I particularly love the Maverick and Wave grab bars because not only are they unexpected, they accommodate a variety of users because of their varying heights. I also love their shower seats but have not found a project as yet to use them in.
Why did you choose to specify Seachrome in all three of your upcoming home renovations?
I have used Seachrome products in three recent projects. Let me describe each of these projects for you:
Wheel Chair Accessible Wet Room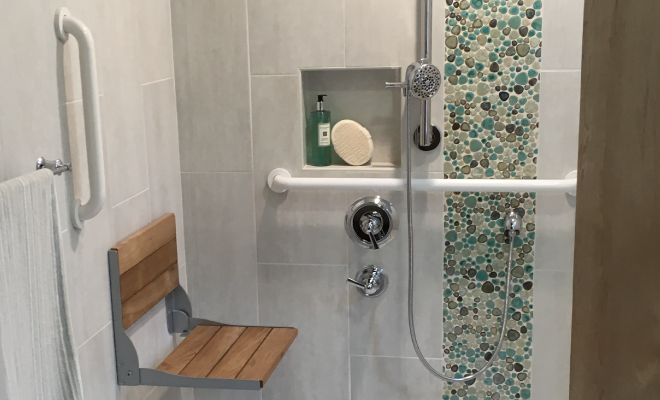 This client is an elderly lady who had recently broken her ankle and was in recovery for that in a board and care facility. She was now in a wheelchair and was likely to have to use it going forward. Her current master bathroom consisted of a shower insert and a nonfunctioning toilet. She used an adjoining guest bath for toileting and use of the sink to attend to her colostomy bag. This was an inconvenient arrangement. The new design, which reflected the mid-century style of the house, enlarged the space by widening the space by two feet, making a roll-in shower, adding a comfort height new toilet and adding a small hand wash sink next to the toilet. She had some existing grab bars that could be reused. They were "biscuit" in color. I needed to add a pair of swing down grab bars next to the toilet so she could transfer from her wheelchair. I chose the Seachrome Swing Up Grab Bars because, unlike other manufacturers, they are available in numerable finishes, "biscuit" being one of them.
2. Modern House Remodel
This project was a whole house remodel to transform an ordinary California ranch house into a mid-century style space. The client is a single woman who hopes to rent out two bedrooms and their baths to local students.
Bath #1: Master Bath
The client wanted this space to be completely accessible in case she needed it to be so in the future. But she wanted it to be fun, feminine and whimsical. I chose a subway tile with a wave-like movement and an iridescent accent tile. The soft pink of the walls and accessories completed the look.  The Seachrome Maverick and Wave Grab Bars perfectly complemented the feeling of the space.
b. Bath #2: Existing Guest Bath
The tile and plumbing fixtures in this bath (with the exception of the wall mounted toilet) were existing. I chose the wall color and added new plumbing hardware. I chose the Seachrome Coronado Grab Bars to complement the fixtures. I think they add a touch of sophistication and work well with the contemporary plumbing hardware.
c. Bath #3: New Bath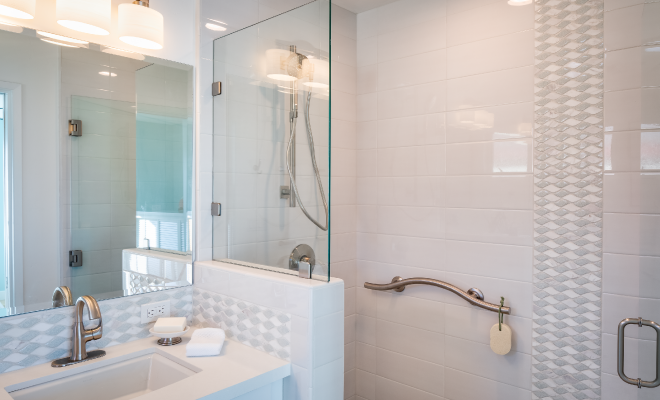 This bedroom and bath are new to the original footprint of the house. Everything is new here. It has a decidedly coastal feel with the accent tile adding to the ambiance. The Seachrome Maverick Grab Bar fit perfectly into the space, repeating the undulating feeling of the accent tile.
3. Master Bath Remodel for Accessibility
This client had a diagnosis of Parkinson's and while currently was somewhat mobile on his feet, was looking ahead to a wheelchair for mobility in the future. Their existing house, even on the first floor, consisted of varying levels and the bathroom was completely wheel chair inaccessible. Portable ramping would take care of the different levels, but a complete remodel of the bathroom and powder room was necessary. The existing bathroom had a large bathtub and a separate shower, a potty room and a double vanity. The new design eliminated the bathtub, positioning a new larger barrier free shower with seat. The walls separating the potty room were eliminated and a new comfort height toilet with bidet set and swing down grab bars was installed. The additional space allowed for additional linen and supply storage. The vanity was redesigned to have one sink area open underneath for roll in ease. Additional lighting was added and all finishes were specifically chosen for ease of care. The existing powder room off the family room was made more accessible by widening the doorway, installing a wall mounted sink and installing swing down grabs bars at the toilet.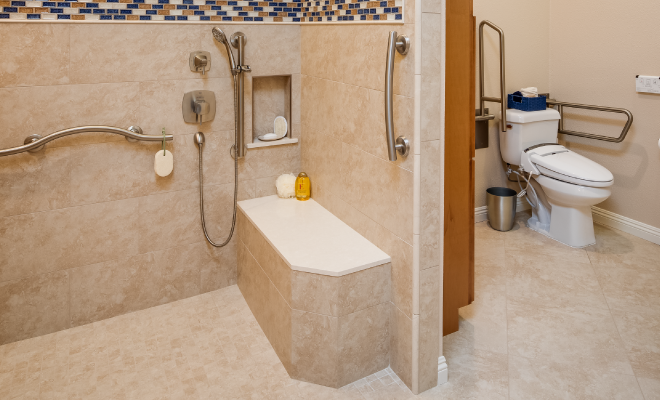 I chose the Maverick Grab Bar in the shower area because of its curvilinear design. The new lighting fixtures repeated this design element. The swing down grab bars in both the master bath and powder bath were chosen because they were available in a brushed nickel finish.
Overall, what do you look for in terms of quality, style and usability of accessible bath products when specifying or recommending to a client? What element is the most important factor in determining your selection?
I look for breadth of design choices and finishes in accessible bath products. I want these elements to work in the grand scheme. I am frustrated when style and finish do not "fit" into the overall design scheme. I want the quality to be high, the styles to be varied, and the available functional choice to be compatible with my client's needs. Most important is availability of choices.
What do you see as a common oversight in universal design projects by specifiers, architects, or interior designers and what areas should designers be more educated in order to ensure the safety of their clients?
The main oversight that I see is not with specifiers but with manufacturers. Unless manufacturers show, promote and educate consumers about the available choices they will not become mainstream. National ads need to show these products, showrooms need to use them in their displays and have samples in their displays and salespeople need to be trained to gently introduce them to consumers. All specifiers, designers and architects need to take their blinders off and not be afraid to educate their clients about the importance of these products and design features. One in 3 adults over the age of 65 falls each year. Of those who break a hip, only 25% fully recover. But this is not just an age issue. The cost of healthcare that results from spaces which do not support the people using them is huge. The cost of preventing this is far less. The average yearly cost of assisted living in California is $104,000 per year. For that amount of money or less, an existing home renovation could make it possible to house someone for quite some time
What future trends in both residential and commercial universal design do you foresee coming into prominence? Of those, which do you see your firm adopting and implementing? 
As the general population ages and the incidence of multigenerational housing increases, the society as a whole will finally begin to see how powerful good design is. I am hopeful that through education and the manufacturers' willingness to promote beautiful accessible design solutions, the general public will embrace and incorporate universal design in all their projects.
I increasingly see a desire for wellness in our lives. I firmly believe that one's home has an immense impact on one's wellness. My focus going forward will be to make the public aware of how their home has a definite impact on their wellness. Universal design and my design work intentionally contribute to that.