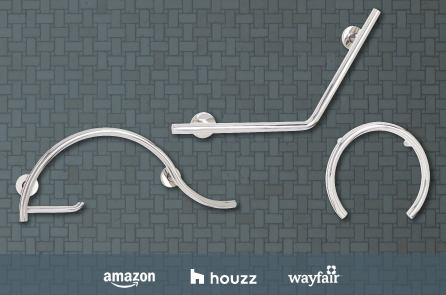 As a long-time supporter of the aging in place movement, Seachrome is proud to highlight our line of aging in place grab bars made for the home. Our Lifestyle & Wellness Series is designed for use in upscale residential applications when quality, safety and style are desired, and ADA compliance is not required. Now, with just a click of your mouse, Seachrome is available to buy even more easily through a broad range of e-tailers like Houzz.com, Amazon.com, and Wayfair.com.
Crafted from durable #304 stainless steel, Lifestyle & Wellness grab bars are constructed to meet the same rigorous standards as ADA-compliant grab bars while offering a range of beautiful style choices. Comfort, safety and aesthetics combine in each of these bold, innovative designs. The Lifestyle & Wellness Series integrates our decades of experience in providing stable and secure options in a bathroom environment — proven to create confidence, self-reliance — and peace of mind.
Lifestyle & Wellness grab bars are available in a range of versatile style options, many of which incorporate left- or right-handed access and the multi-functional convenience of integrated towel racks or toilet paper holders. If you're planing an aging in place remodel, make an investment in style and security by purchasing one of our durable grab bars linked below.
Shop Seachrome for your aging in place remodel and get free shipping!