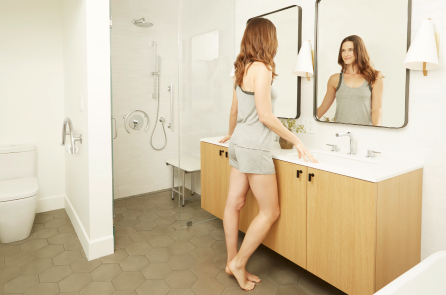 Architects know that total ADA compliance in the bathroom is imperative for commercial designs. As ADA experts, we understand the sometimes confusing world of measurements, regulations, and rules. In this story we break down what you need to know about achieving full ADA compliance in the bathroom while using our specially designed line of stylish, secure bathroom accessories.
Here's what you'll need to comply with ADA regulations to provide a safe bathroom experience for your design clients' guests. Read on to learn what we do differently from our competitors so you can balance style, durability, and security in your ADA compliant designs.
Bath & Shower Areas
Our functional, attractive shower and tub seats gained the interest of architects and designers around the country when we unveiled our innovative, exclusive Lift-Assist Technology earlier this year. Lift-Assist means our seats are the easiest to lift on the market, requiring less than five pounds of force to lift or push down. Paired with a grab bar, they're guaranteed to make bathroom access simpler for a wide range of clientele, from senior citizens to those with mobility issues.
When designing an ADA-friendly bathtub area, guidelines require a clearance area the length of the bathtub and a minimum of 30" wide. Specifying a seat that accurately meets the height requirements for ADA compliance can be difficult — fortunately this is not an issue with Seachrome seats.
When not using a permanent shower, the ADA guidelines permit a roll in or transfer shower but be aware each has specific allowances for size, location of grab bars and controls, shower seat installation, threshold, and clear floor space. Be sure to carefully reference ADA guidelines or contact your Seachrome rep when designing an accessible shower space.
Toilet Area
Rooms with toilets must include a turning space with a minimum 60" in diameter to allow wheelchair users to properly maneuver their chairs. Also plan to include a clearance around the toilet that's a minimum of 60" from a side wall.
When measured perpendicularly from the rear wall, the toilet must be a minimum of 56" deep for wall mounted units and a minimum of 59" deep for floor mounted units to accommodate wheelchair access.
Grab bars on the side wall next to the toilet and the rear wall are a necessity in ADA design. The side wall grab bars must be at least 42" in length, placed no more than 12" from the rear wall, with a minimum of 54" in length from the rear wall. Grab bars on the rear wall must be a minimum of 36", extend at least 12" on one side from the toilet centerline, and must be at least 24" on the other side.
Our grab bars are ADA compliant architectural classics for a reason. Elegant and efficient, they give users independence in the bathroom without sacrificing aesthetics. Working within ADA guidelines, these grab bars can be placed next to the toilet or in the bathing area for ease of access.
The ADA requires grab bars to be installed in a horizontal position, 33" minimum and 36" maximum above the finished floor measured to the top of the gripping surface. They must be spaced 1½" from the wall, a minimum of 1½" from any objects below, and at least 12" from an object projecting above a grab bar. Grab bars should be able to support 250 lb. of force with no sharp edges as part of the design.
As ADA experts, we're always happy to provide guidance on using Seachrome products in your projects. Please contact us with any questions!