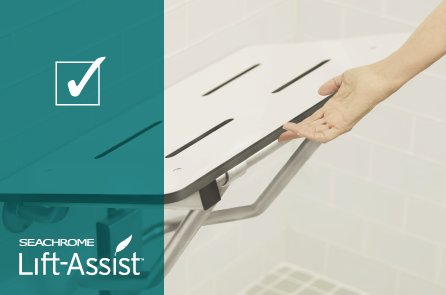 As an architect, you know ADA compliance is as of the utmost importance to guarantee the safety and security off all. These guidelines pertain to a huge range of projects, including all retail, healthcare, hospitality, and in some cases, residential construction. Of course, offering access to guests with limited mobility isn't just the law — it's also good business sense. After all, everyone should be able to enjoy a nice dinner out, try on clothes, or enjoy the pool at a resort. We created our exclusive new Lift-Assist Technology with the needs of these users in mind. This revolutionary technology lets anyone lift our accessible shower and tub seats with a minimal amount of force, making them the easiest to lift seats on the market. Architects and interior designers can be assured any seat selected from our Signature collection will be ADA-compliant thanks to this innovative technology.
Lift-Assist can help with ADA compliance or ease of use in the following situations:

• ADA Compliance for Retail. Make a dressing room accessible for guests who need extra support when trying on clothes.
• ADA Compliance for Healthcare. Our shower and tub seats are ideal for nursing homes, hospitals, and extended care facilities.
• ADA Compliance for Hospitality. Open up the lodging options for guests who may require the safety and security of a shower seat in the bathroom or pool area.
• Aging in Place Residential Design. A shower or tub seat installation is an essential part of aging in place design for those looking to stay in their own homes as they get older.
We're the ADA bathroom design experts and we're the only bathroom accessories company offering this fully ADA-compliant option. Contact us today to learn how we can assist you in your accessible design projects!