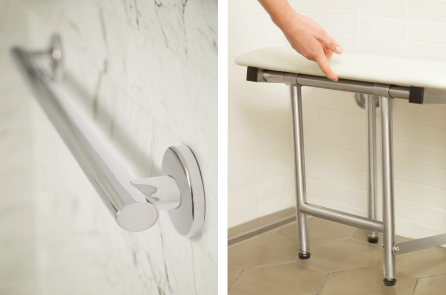 Compliance with the Americans with Disabilities Act allows your hotel or resort to welcome a whole new range of guests to the property. Over 50 million Americans have a disability — that's 18% of the population — and with Baby Boomers getting older, the market share is set to expand quickly. To provide equal access to all, the ADA requires all commercial buildings built in the United States to comply with the ADA Standards for Accessible Design.
In the hospitality industry, this means providing older and disabled people with accessible guest bathrooms, changing rooms, and swimming pool areas. This is our area of expertise. In fact, we recently announced our exclusive and revolutionary new Lift-Assist Technology. This innovation means that our entire range of shower seats is ADA compliant. For your guests, it means shower and tub seats are easy to lift, making sure their experience offers comfort and ease.
With our designs, you won't have to sacrifice security for style. Seachrome bath accessories have been used in top resorts, spas, and hotels across the nation, including the luxurious Red Rock Resort in Las Vegas.
Get inspired for your next ADA-compliant hospitality project and view our Signature Series line now!