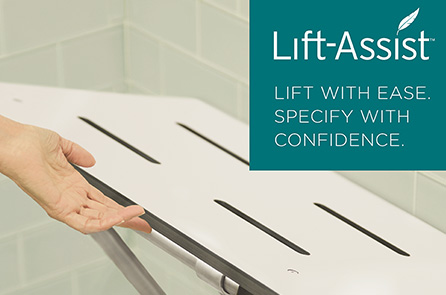 Choosing shower seats for an ADA-compliant residential or commercial project can be more challenging than you think. Many shower seats on the market today do not align with ADA standards. Thanks to our revolutionary and unique new Lift-Assist Technology, however, when you choose Seachrome shower seats, you can rest assured that they do.
Since 1991, we have continually invested in independent testing to ensure our products offer uncompromising security and ADA compliance. When it comes to shower seats, the ADA specifies that seats must be operable with less than five pounds of force – a mandate known as the ADA five-pound code.
With Lift-Assist, our seats require less than five pounds of force to lift, regardless of seat size or seat top material, while also being easier to lift than other accessibility seats on the market. Lift-Assist Technology employs a user-friendly, patented spring-support mechanism that's engineered to seamlessly integrate into the design of Seachrome shower seats. Benefits for users include ease of use, peace of mind, versatile style and secure, ADA-compliant quality and support in the shower.
Thanks to our innovative, exclusive Lift-Assist Technology, Seachrome is the only accessibility product manufacturer to offer total ADA compliance with the five-pound code across our full line of shower seats – including both our Signature and Lifestyle & Wellness® Series. Seachrome Lift-Assist shower seats are ideal for use in commercial projects where ADA compliance is required, or in Aging in Place home remodels where safety and security are at a premium.
Would you like to take a closer look? Home professionals can browse and shop our Seachrome Signature and Lifestyle & Wellness® shower seats on our website while homeowners can shop for a reduced rate via wayfair.com.