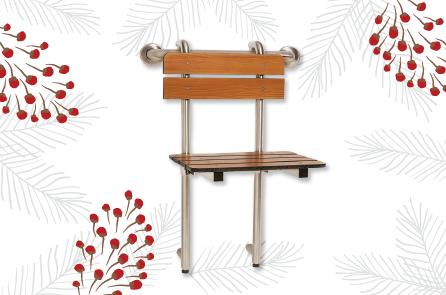 With the holidays fast approaching, it's a natural time to start thinking about family. This year, we're giving you the chance to share the gifts of self-reliance, confidence, and safety with older family members and friends by providing them with the support they need when they visit your home.
Enter our Aging in Place Holiday Giveaway for your chance to make your bathroom more manageable for older relatives or to help with an aging in place remodel at their own home. On December 12, one randomly-selected winner will receive our durable Profile Shower Seat & Grab Bar – a prize worth almost $500! Designed for added support in a walk-in shower, the seat is constructed from stainless steel and teak, adding a spa-like quality to a product designed to make you feel safe. This versatile seat flips up for easy storage.
To enter, just visit our Facebook page and click on the Giveaway tab for a chance to win in for your own home or surprise a loved one with some added comfort and security at home.