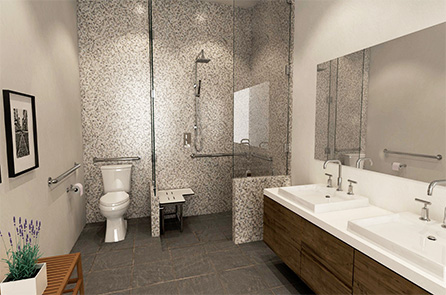 As America's aging population rises, the demand for ADA-compliant bathrooms also increases. September is Healthy Aging Month, which makes it a great time to start the conversation about home construction or remodels with an eye towards aging-in-place design. At Seachrome, we're experts in bathroom accessories that are compliant with the Americans with Disabilities Act (ADA); it's a wise choice to follow these regulations for seniors who want to stay in their homes as they get older and know they're prepared for anything.
Our company has been manufacturing grab bars and other accessibility fixtures since the ADA mandate first took effect in 1991, so we've got decades of expertise to draw on. When you're creating accessible bathrooms for residential applications, our team can provide the product recommendations, tips and insights to enhance safety, security and peace of mind.
We can guide you through the differences between ADA and federal specifications, so that your commercial and residential projects meet the appropriate requirements.
For residential projects where accessibility is desired, but ADA compliance is not required, Seachrome offers a Lifestyle & Wellness® Series of grab bars and seats that provide comfort and security without compromising on style.
You can enhance safety and security with multi-function products like grab bars that are designed to work as towel racks as well, and be sure to install toilet paper holders that can be changed with one hand.
When designing accessible bathrooms for the home, consider ways to reduce slippage on bathroom and shower floors with textured flooring or slip-resistant mats.
Automatic nightlights and illuminated switch plates can help reduce the likelihood of slips and falls during nighttime bathroom visits.
Install shower, bench or tub seating in walk-in or wheel-in showers and bathing areas to maximize accessibility and safety for all.
For more information, please visit www.ada.gov and always check your local state and federal regulations.